Ring roller mill is an ideal equipment for dry production of heavy calcium superfine powder. As an important inorganic filler, calcium carbonate is one of the three major fillers in the production of chemical products and is widely used. With the rapid development of the economy, the requirements for the grade and fineness of calcium carbonate are getting higher and higher, and the ring roller grinding calcium carbonate has also been more and more widely used.
Raymond mill is often used in heavy calcium processing, but the fineness of its processed products is relatively coarse, generally between 200 and 400 mesh. Although the current upgraded version of Raymond Mill can increase the product fineness to 600-800 mesh, it still cannot meet the market requirements, the added value of the product is low, and the resources cannot be used more effectively. The HGM series new ring roller mill independently developed and produced by CLIRIK can process 200-2500 mesh calcium carbonate ultrafine powder. When pulverizing brittle materials with a particle size of not more than 20mm, a moisture content of not more than 8%, and a Mohs hardness below 6, a fine powder with d97=5μm can be made at one time by using a ring roller mill.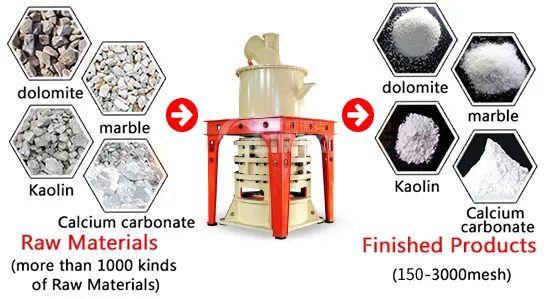 HGM series ring roller mill has the following advantages in the calcium carbonate grinding production line:
Advantage 1: low investment and high benefit. HGM ring roller mill occupies a small area, compared with large-scale complete equipment, the investment is saved by nearly half.
Advantage 2: High classification accuracy. The internal classification device is adopted, the classification wheel has a unique structure, the classification effect is good, and there is no large particle pollution.
Advantage three: low energy consumption. HGM series ring roller mill has comprehensive mechanical crushing performances such as rolling, grinding, and impact. It is a superfine crushing equipment that is really efficient and energy-saving, and is especially suitable for deep processing of non-metallic minerals.
Advantage 4: The work is stable and reliable. The transmission spindle of the HGM series ring roller mill is driven by a reducer, which has low energy consumption and high efficiency, and the efficiency is >96%.
Advantage 5: High specific surface area. The specific surface area of powder is the surface area occupied by unit mass, in m'/g. It is an important indicator of the ability to participate in chemical reactions. The larger the contact surface, the more perfect the synthesis process, the easier to control, the higher the utilization rate of calcium carbonate, and the lower the consumption rate of powder, thus showing its high activity. Therefore, the specific surface area has become an important indicator of the activity of ultrafine calcium carbonate powder. HGM ring roller mill can produce superfine powder with specific surface area of 2.24m/g (d97=10μm)-3.04m/g (d97=4μm) respectively.
HGM ring roller mill production line