There are many uses of lightly burned magnesia powder. The lightly burned magnesia powder is processed into fine powder. CLIRIK provides two types of mills. One is ring roller lightly burned magnesia powder mill (325 mesh -2500 mesh), and the other is CLUM series vertical magnesia light burnt powder mill (powder fineness up to 3 microns). These two lightly burned magnesia powder mills are equipment for finely grinding magnesia lightly burned powder in the calcination process of magnesia lightly burned powder, with large output and high efficiency.
Application of lightly burned magnesium oxide powder
Magnesium oxide lightly burned powder is widely used in many fields such as building materials, chemical industry, metallurgy, medicine, etc. Material. Lightly burned magnesium is mainly used to manufacture cementitious materials, such as magnesium-containing cement, building materials for thermal insulation and sound insulation, and can also be used as ceramic raw materials. After chemical treatment of light-burned magnesium, it can be made into various magnesium salts, which can be used as raw materials for medicine, rubber, artificial fiber, papermaking, etc.
The production process of lightly burned magnesium powder
The production process of light-burned magnesium powder includes one-step calcination method and two-step calcination method, and the intermediate product of two-step calcination needs to use magnesia light-burned powder mill to produce light-burned magnesia powder fine powder.
Two-step calcination process: raw material (magnesite with certain requirements) → light calcination (suspension roasting kiln, rotary kiln, reverberatory furnace or fluidized bed furnace, using ashless fuel, calcination at different temperatures) → fine grinding (grain size The finer it is, the higher the purity of the magnesium powder)→Secondary calcination (calcination in a shaft kiln or a rotary kiln, at different temperatures)→Different grades of magnesium powder.
Magnesium Oxide Light Burning Powder Mill
(1) Ring roller magnesium oxide light burnt powder mill (325 mesh-2500 mesh)
The ring roller magnesium oxide light burning powder mill is an energy-saving and consumption-reducing equipment for fine powder processing, economical and practical ultra-fine powder processing equipment.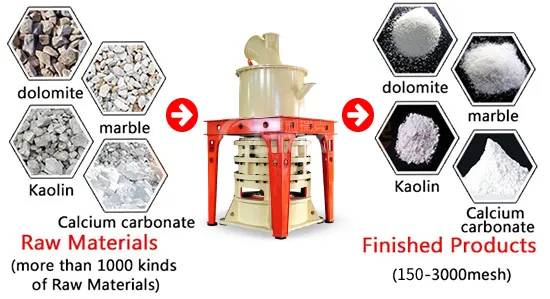 The ultra-fine ring roller mill is a new type of ultra-fine grinding equipment newly developed by CLIRIK based on years of experience in production and research. D97≤5um. It is a superfine crushing equipment that is really energy-saving and especially suitable for deep processing of non-metallic minerals. After long-term market application practice and user verification, this equipment has been certified by the China Calcium Carbonate Association as energy-saving and consumption-reducing equipment in the field of calcium carbonate ultra-fine processing in China, and it is also the largest ultra-fine ring roller mill in China.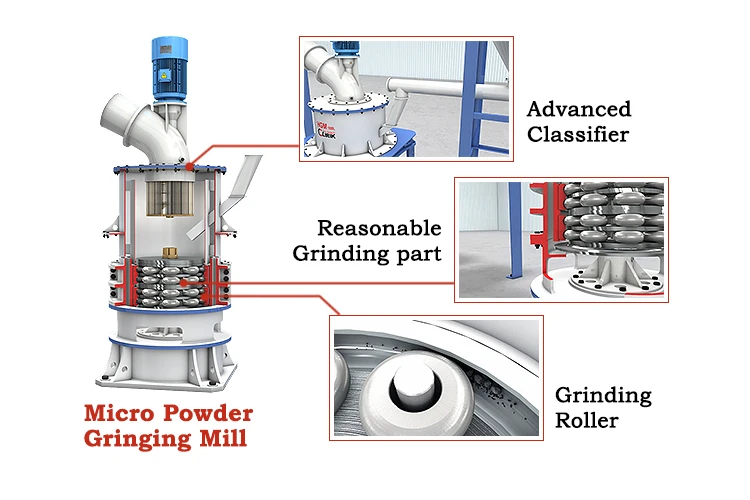 【Finished Particle Size】: 5-45μm
【Production capacity】:1-22t/h
【Advantages of the mill】: Superfine Ring Roller Mill The mill has a small footprint, strong complete set, wide application, simple operation, convenient maintenance, stable performance, super cost-effective, and energy-saving ultrafine powder processing equipment.
(2) CLUM series ultra-fine vertical mill (325 mesh-3000 mesh)
CLUM series superfine magnesia light burnt powder vertical mill is a large superfine vertical mill developed by CLIRIK on the basis of the vertical mill based on the advanced technology at home and abroad, which is suitable for the development requirements of the non-metallic mineral industry.
The product fineness of CLUM ultra-fine vertical mill can be adjusted between 45um-7um, and the secondary classification system is adopted, and the fineness of lightly burned magnesium oxide powder can reach 3um. It can be widely used in ultra-fine grinding processing of non-metallic mineral products such as magnesium oxide lightly burned powder, limestone, calcite, marble, heavy calcium, superlin, barite, bentonite, pyrophyllite, etc. It is a ultra-fine powder processing equipment with super efficiency, super output, environmental protection and energy saving.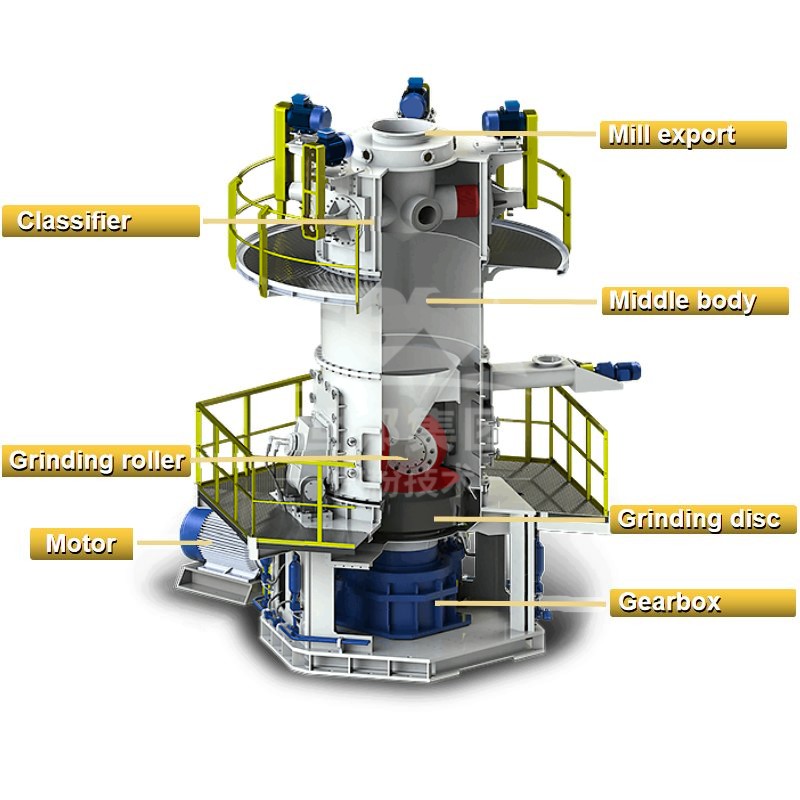 CLUM ultra-fine vertical mill can produce 1.2~45 tons of magnesium oxide light burnt powder per hour, with many configuration models and strong system matching flexibility.