Kaolin is a very common and important clay mineral in nature, and it is also a very important industrial resource. It is understood that kaolin ore generally includes 100 mesh, 200 mesh, 325 mesh, 400 mesh, 500 mesh, 600 mesh, 800 mesh, 1200 mesh, 2500 mesh and other specifications under the grinding of the mill. Not only can it be supplied to paper mills and ceramic mills, but it can also be used to produce light-weight coated paper, coated paper, coated cardboard, floor tiles, sanitary ware and other ceramic products. From the perspective of the industry as a whole, the higher the fineness of the kaolin clay processed by the mill, the higher the economic value. The pulverizer plays an important role as a key equipment affecting the fineness of the kaolin finished product, so the choice of the kaolin pulverizer cannot be careless. How to choose a suitable pulverizer for kaolin powder with different fineness requirements?
1. 80-325 mesh, choose Raymond mill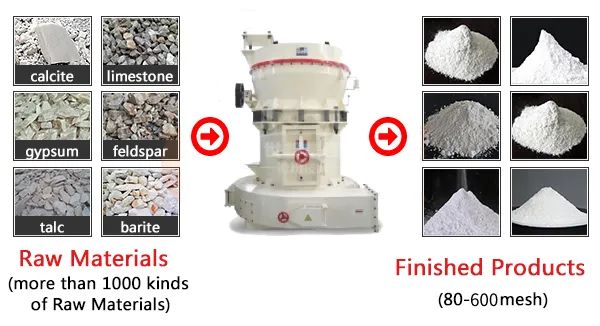 Raymond mill is the most commonly used milling equipment. It is mainly suitable for non-flammable and explosive minerals, chemical industry, construction and other industries with Mohs hardness not greater than 9.3 and humidity below 6%. High-fine milling processing. Its finished particle size can be adjusted arbitrarily within the range of 80-325 mesh, and some materials can reach 600 mesh.
2. 150-2500 mesh, choose ultra-fine grinding mill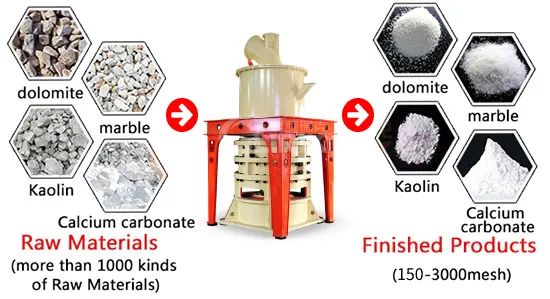 The ultra-fine pulverizer has high efficiency and is suitable for ultra-fine grinding of various non-flammable and explosive mineral materials with Mohs hardness below 7. The ultra-fine pulverizer has the advantages of small footprint, stable operation, simple operation and long service life. In addition, its powder separator module design, frequency conversion speed regulation, can adapt to different fineness requirements, frequency conversion speed regulation, product fine classification.
3. 325-3000 mesh, choose ultra-fine vertical roller mill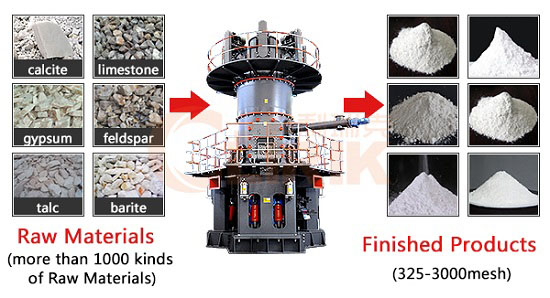 Ultrafine vertical mill is also a common equipment for kaolin grinding, it is mainly suitable for ultrafine powder processing of non-flammable and explosive brittle materials with medium and low hardness and Mohs hardness ≤6. It has the advantages of low vibration, low noise, convenient maintenance, simple operation, low energy consumption, high efficiency, and durable wearing parts. In addition, it produces a high degree of grinding purity without impurities.
The above three types of grinding equipment can meet the requirements of the grinding process of kaolin. The selection of specific grinding equipment can be reasonably selected according to the actual needs of users.