The diatomite meshes that can be produced by the diatomite ultrafine mill are 325-3000 meshes. 325 mesh diatomaceous earth, 350, 400, 500, 800, 1000, 1200, 1250, 2000 and 3000 mesh diatomaceous earth powder.
Why produce diatomite powder of these meshes? The use of diatomite ore is the main driving force of the company's production. The production of any product must be guided by market demand, and blind production will lead to wasteful costs. Therefore, if you have a diatomite mine or plan to invest in a diatomite project in a joint venture, you need to first understand and open up a certain range of diatomite powder sales channels and production requirements, and then order according to the above two parameters as the criteria for yourself Diatomaceous earth mill production line.
Manufacturers of diatomite mills usually communicate the powder fineness and output in detail before configuring the production line for the diatomite mill purchasers, understand the downstream enterprise needs faced by the purchaser, and then select the mechanical equipment.

The main purpose of diatomite:
(1) The use of filler diatomaceous earth
Filler diatomaceous earth is used in various papers such as office paper and industrial paper. The advantages of applying diatomite are light and soft, and the fineness is in the range of 120 mesh to 1200 mesh. The addition of diatomaceous earth can make the paper smooth, light, and strong, reduce the expansion and contraction caused by changes in humidity, and can be adjusted in cigarette paper Burning rate, without any toxic side effects, in the filter paper can improve the clarity of the filtrate, and speed up the filtration rate.

(2) The use of diatomaceous earth in ceramics
Diatomaceous earth has many excellent properties such as porous, light weight, sound insulation, heat insulation, firmness, wear resistance, acid and alkali resistance. Therefore, it is widely used in chemical, electric power, metallurgy, building materials and petroleum industries. Adding a certain amount of diatomaceous earth (treated) to the ceramic blank can replace quartz to play the role of the porcelain blank and reduce the weight.

(3) The use of diatomaceous earth in horticulture
Agricultural use of diatomaceous earth In the current large-scale planting industry, such as in horticulture, the fineness of diatomaceous earth powder is between 325 mesh and 500 mesh to produce wettable powder, herbicide for dry land, herbicide for paddy field and various biological pesticides. Advantages of applying diatomite: neutral pH value, no du, good suspension performance, strong adsorption performance, light bulk density, oil absorption rate of 115%, good mixing uniformity, will not block agricultural machinery pipelines when used, and can moisturize the soil , Loosen the soil, prolong the time of fertilizer effect, and promote the growth effect of crops. It is used for seed storage, livestock breeding, and insecticide. The functional effects of diatomaceous earth are obvious.

(4) Uses of beer diatomaceous earth
After diatomaceous earth is used as a filter aid in beer filtration, various organic substances are adsorbed on its surface and become diatomaceous earth mud, which can only be discarded when the filter aid effect is reduced. Because it contains a lot of organic matter, if diatomaceous earth mud is directly discharged into the sewer or stacked in the open air, it will seriously pollute the environment. At the same time, diatomite comes from natural minerals and is a non-renewable resource. In today's beer industry that mainly uses diatomaceous earth for filtration, it is quite necessary to treat a large amount of waste diatomaceous earth produced by beer filtration.

(5) The use of diatomaceous earth in skin care
Diatomaceous earth is becoming more and more popular in the cosmetics mask industry. Diatomaceous earth can be used as the main material of cosmetics and skin care products such as facial masks. The diatomaceous earth mask mainly uses the adsorption properties of diatomaceous earth to absorb substances in the skin and play a role in skin care.

(6) Industrial use of diatomite wall material
Diatomaceous earth powder is small and has high energy. Diatomaceous earth has a very wide range of uses in life. Of course, the positive energy of diatomite is reflected in interior wall decoration! Raw diatom mud can effectively remove free formaldehyde, benzene and other harmful substances in the air, as well as odors generated by smoking and household garbage, and comprehensively solve indoor air pollution. Significantly improve the indoor living environment. And the display effect of thousands of patterns is amazing. Therefore, it is favored by many consumers.

(7) Diatomite sewage use
Diatomaceous earth is rich in organic matter and is one of the food sources of microorganisms in activated sludge. At the same time, the active calcium of diatomaceous earth can replace some heavy metal elements, and the separated free calcium can promote calcium, magnesium and iron in sewage of deposition.
There are many industrial, agricultural and daily necessities of diatomite powder, and even nuclear power industry uses. Our diatomite powder needs to adapt to a wide range of market demands, so the fineness range of diatomite powder needs to be wide in order to obtain more market orders. Only by purchasing diatomaceous earth mill production equipment suitable for the sales of their products can the production of the enterprise be satisfied.

HGM Diatomite Ultrafine Grinding Mill:
HGM diatomite ultrafine grinding mill mainly consist of main unit, classifier, powder collector, dust cleaner, blower, muffler, sound-proof room, crusher, bucket elevator, storage hopper, feeding part, air compressor, and the he pneumatic conveying system. The processing line can finish the grinding and collecting working completely.

The final fineness of the grinding materials can be adjusted between 325 meshes and 2500 mesh (47-5 micron), and the product fineness can reach D97 ≤5μm.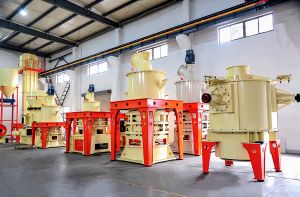 Performance and features of HGM Diatomite Ultrafine Grinding Mill:
1. High efficiency
2. Long lifetime of wearing parts
3. High safety and reliability
4. High fineness of products
5. Environment friendly